RUN ME
🏆 This game is part of the Monthly 24 Hour Design Challenge - April 2023 on BGG.

RUN ME is a fast-paced, strategic card game that is based on the popular rummy gameplay format, with a unique Linux command theme. It is played with a custom deck of 54 cards. The objective of the game is to win by forming valid combinations of cards.
The game's core cards are 20 command cards that represent Linux terminal commands. The 18 Option cards add more options to the game, and the 12 Path cards provide different ways for players to complete their combinations. The four Special cards increase the game's complexity.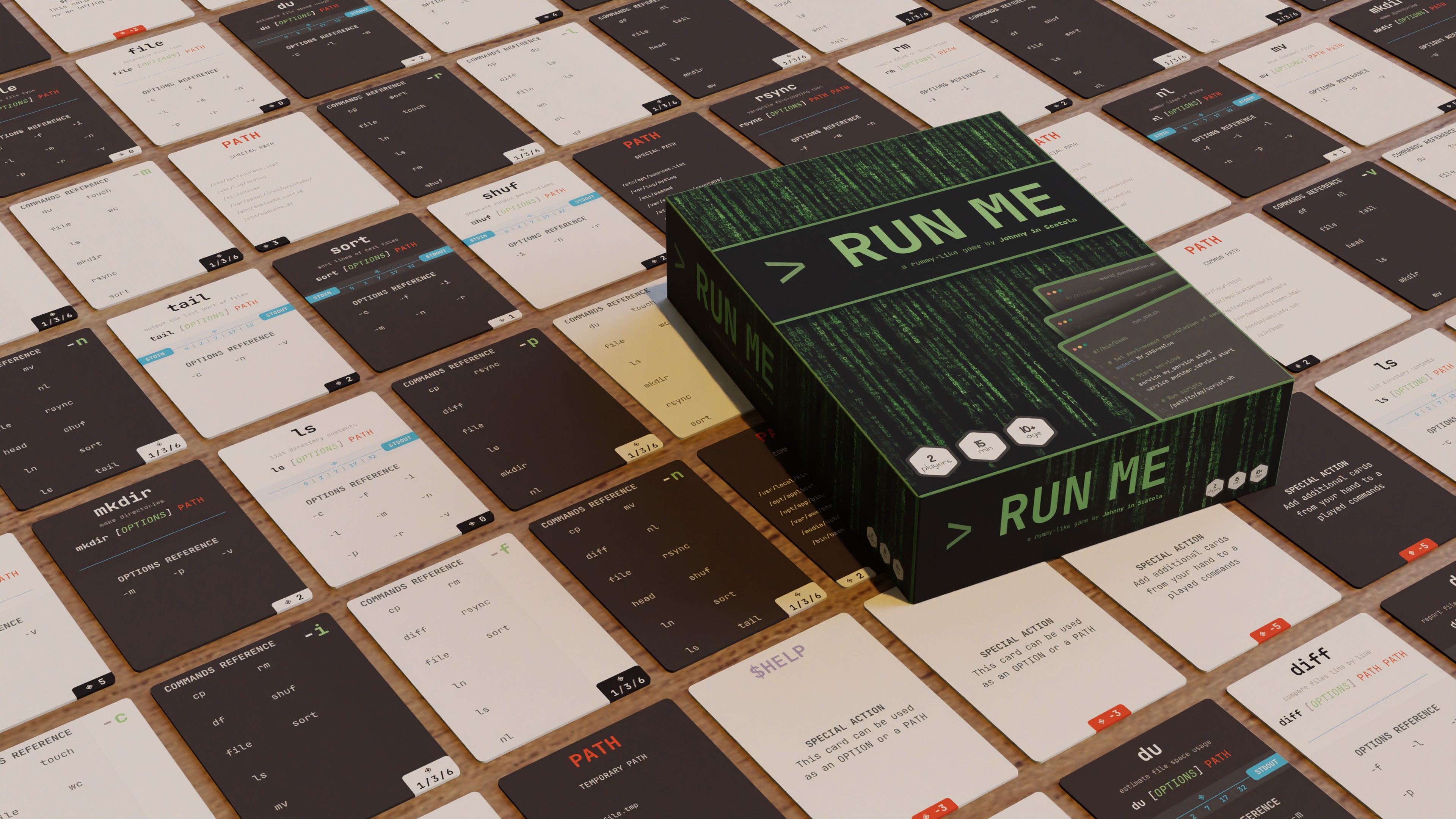 The gameplay of RUN ME is simple, yet challenging. Each player is dealt five cards, and the remaining cards are placed face down to form a draw pile. Players take turns to draw one card from the draw pile and either discard a card from their hand and play a valid combination of cards. The game develops as players strategically discard or keep cards in hand, making calculations based on the cards they have, as well as the ones they still need to form a valid combination. It's perfect for Linux enthusiasts and rummy fans alike.
GAME INFO
👥 Number of Players : 2
🕒 Playing Time : 15 min
🎂 Age : 10+
🧩 Type : Board Game \ Print-and-Play
📄 Format : PDF
COMPONENTS INCLUDED
54 Cards ( 9 per page with custom back)


available in 🇺🇸 English and 🎨 Light Theme and 🎨 Dark Theme (v4.1 only)

6-page Rulebook

available in 🇺🇸 English and 🎨 Light Theme

NO EXTRA COMPONENTS REQUIRED
The new version 4.1 also include command description on the card!

Download
Click download now to get access to the following files:
run-me-v4.0-english-free.zip
549 kB
run-me-v4.1-english-full.zip
3 MB
if you pay $3 USD or more
Comments
Log in with itch.io to leave a comment.
Need add descriptions for commands and options on cards for teaching by play :)

I was not able to put in the command description due to lack of time (24 hours for everything is very little time). probably next week (after the contest is over and then being able to edit the files) I will add it! 😉 As for the options I had done a few tries but the text to add is really too much on each card and then they would become almost unreadable. I need to consider some different solutions.
this needs to be sold as a physical game.